Retrospective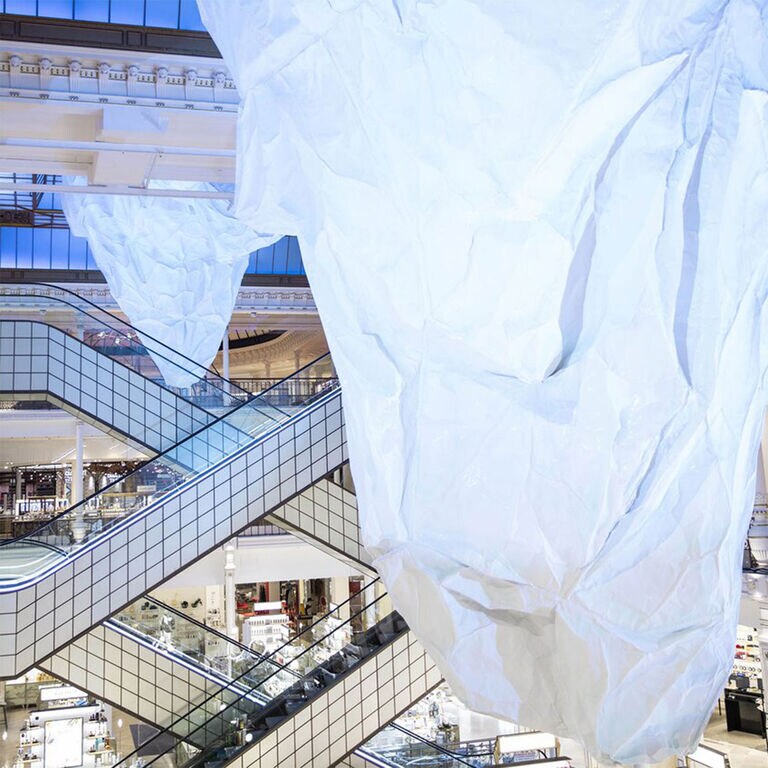 Over the years, Le Bon Marché Rive Gauche has passionately pursued its commitment to contemporary artists by giving them carte blanche.
Prune Nourry's L'Amazone Érogène in 2021, Oki Sato's Studio Nendo in 2020, Joana Vasconcelos' Branco Luz in 2019 and Leandro Erlich's Sous le ciel in 2019... All these unique works are driven by a desire to bring contemporary art to life at la Rive Gauche.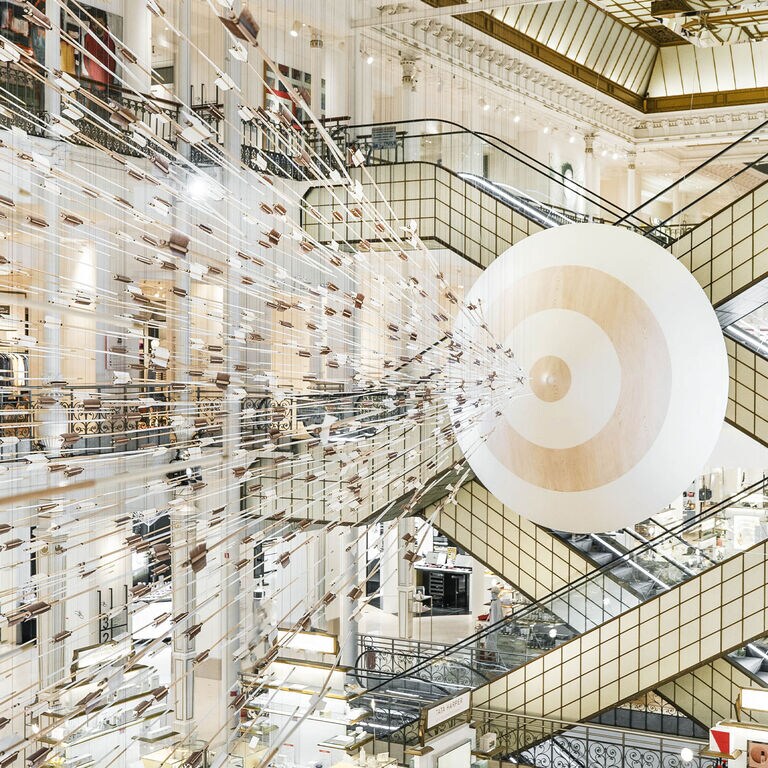 L'Amazone Érogène, by Prune Nourry in 2021
In January 2021, the rising figure of the international contemporary scene, Prune Nourry, took over Le Bon Marché Rive Gauche with a superb exhibition, L'Amazone Érogène.
Prune Nourry's work challenges concepts such as genetics, gender selection, the status of women and the relationship with the female body. Each piece emerges as an aspect of her thinking, which explores the areas of science and anthropology.
For L'Amazone Érogène she was inspired by the myth of the Amazons, who, according to legend, would cut off their right breast to make them better archers. Playing with the characteristic symbols of the warrior, the artist has created an installation around three major components: a breast-shaped target, a bow and arrows.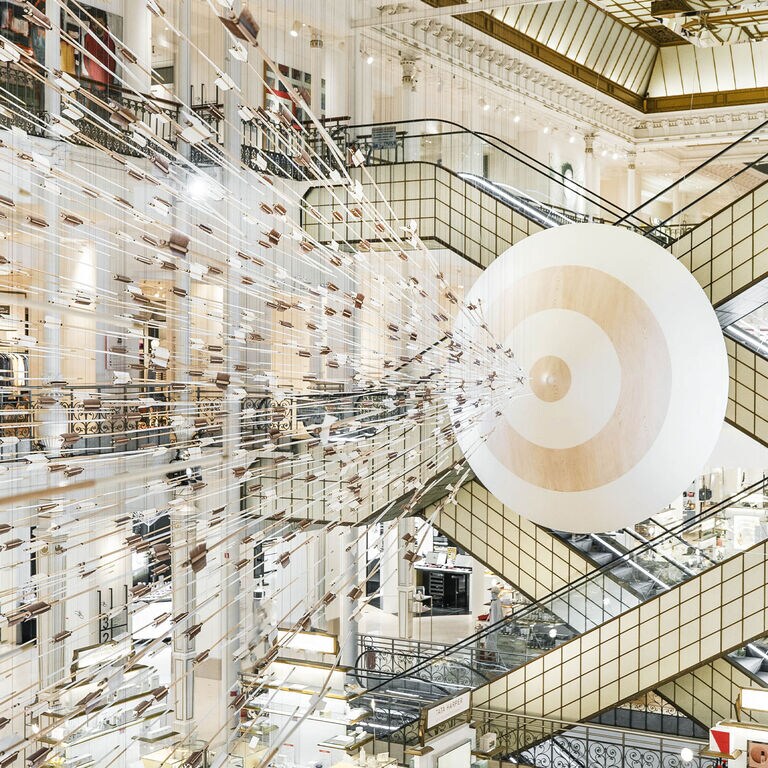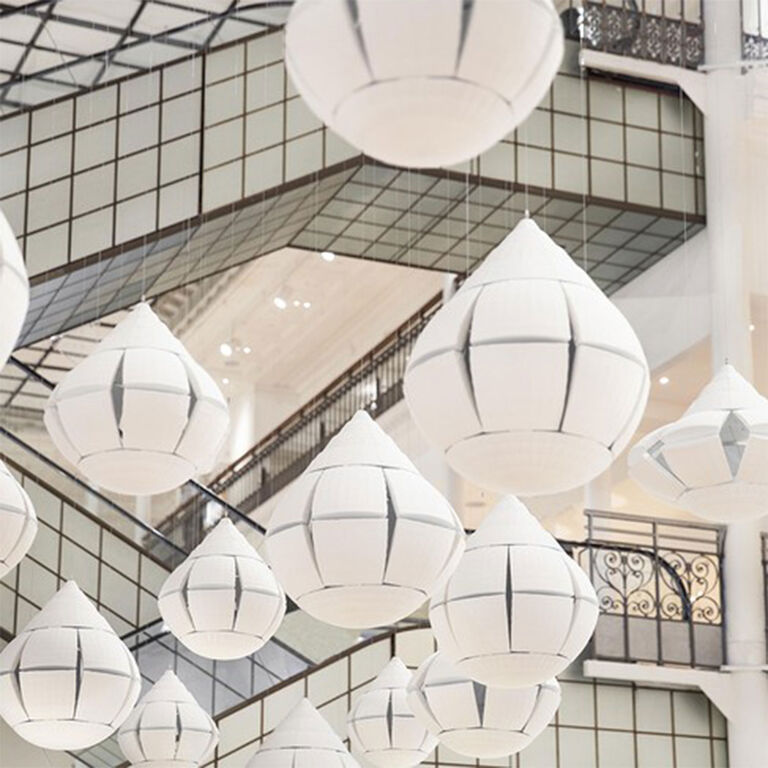 Studio Nendo, by Oki Sato en 2020
In January 2020, Le Bon Marché invited Japanese designer Oki Sato to showcase his tremendous talent with the stylish and poetic Ame Nochi Hana (rain flowers) exhibition. Founder of the Nendo design studio, Oki Sato develops creations that are joyful and refined, instilling serenity in the hectic world we live in. Born in Canada, he is inspired by his dual culture and creates works that straddle Japan and the West. With simplicity, joy, humour and originality, Oki Sato moulds reality in the style of modelling clay ("nendo" in Japanese), appealing to our inner child.
Oki Sato has orchestrated four dreamlike propositions around rain water and blossom. Each one explores the connection and interrelation between these two universal elements. The "rain flowers" he imagines are full of life and joy, they are the main thread of the exhibition.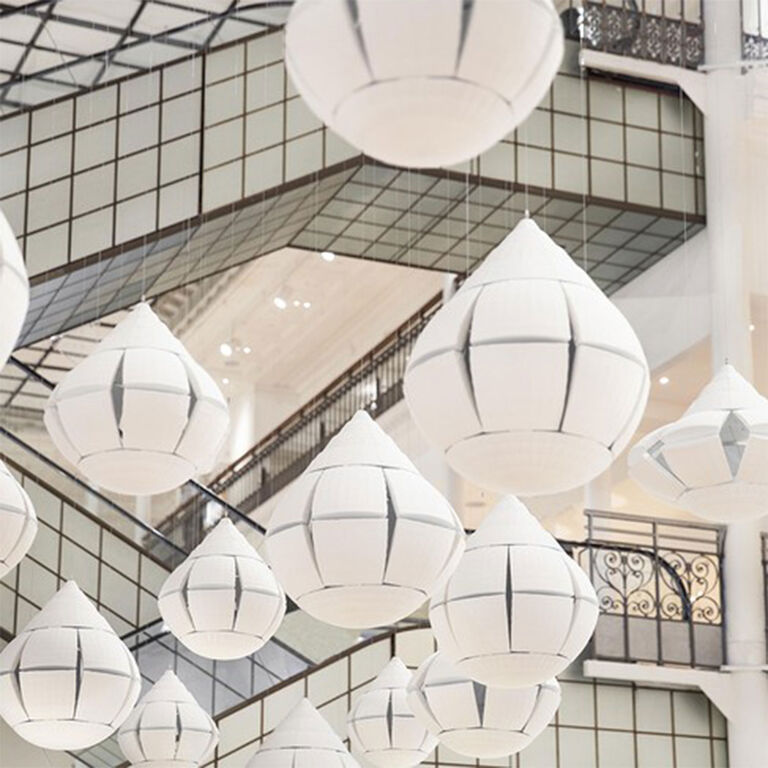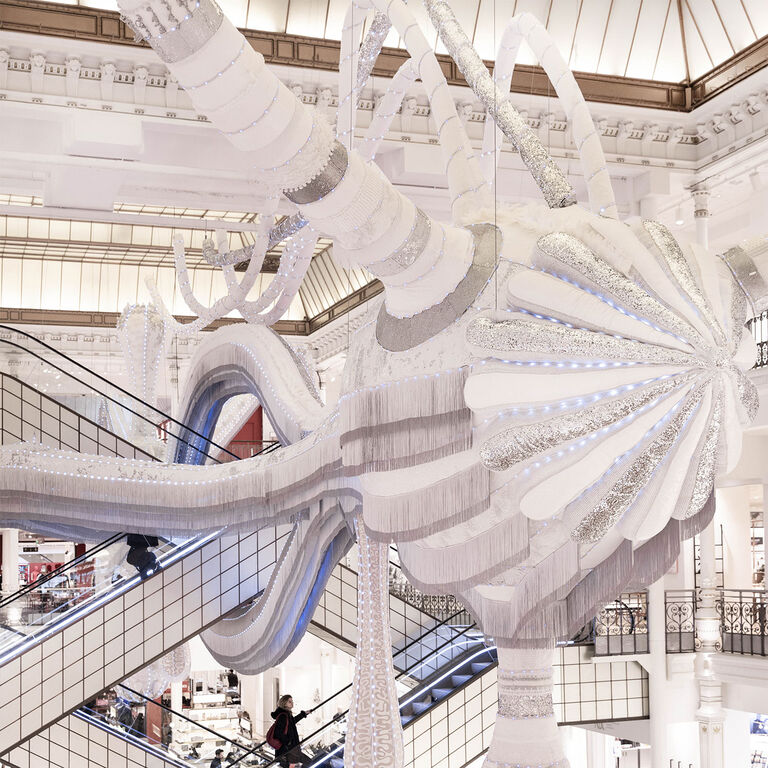 Branco Luz by Joana Vasconcelos in 2019
Joana Vasconcelos established herself in the contemporary art world with works of art with dramatic proportions, featuring light-hearted, baroque forms, which reveal a rich imagination, a taste for tradition as well as provocation and transgression.
In January 2019, Le Bon Marché invited the Portuguese artist for an installation Branco Luz. An influential and enlightened artist, Joana Vasconcelos draws on Portuguese craft traditions while reinterpreting the rules of contemporary art to produce her monumental works. Hinting at the Mois du Blanc (White Sales) invented in January 1872 by Aristide Boucicaut, founder of Le Bon Marché, Joana Vasconcelos designed this installation around variations of white textiles and lights, woven and assembled by hand at her workshop.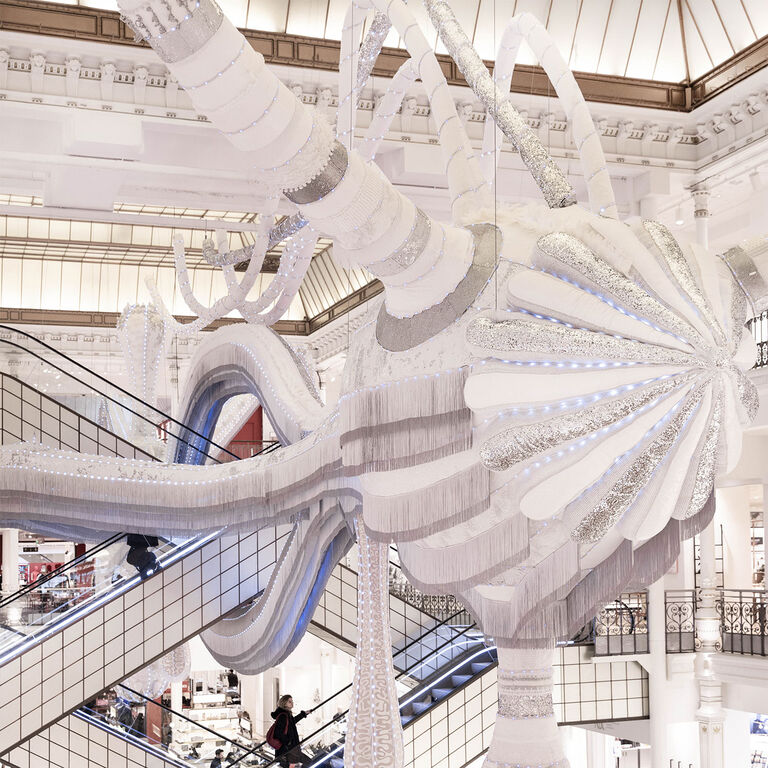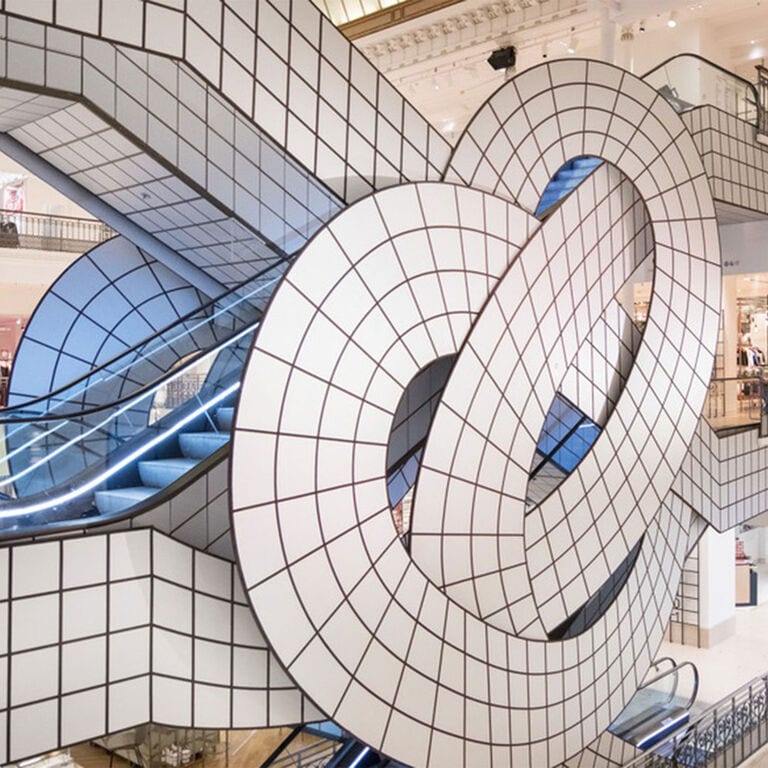 Sous le ciel, by Leandro Erlich in 2018
In January 2018, Le Bon Marché Rive Gauche hosted the Sous le ciel exhibition, which brings together new creations and pieces which Leandro Erlich designed in store on the theme of space, the real and the believable.
His exhibition pays tribute to the famous Paris sky and invites the visitor to take a fresh look at their surroundings. With its surprising installations, which were made exclusively for Le Bon Marché Rive Gauche, it manages to change our perception of the spaces inside the most iconic Parisian store. A romance which he has written in his own way, in several chapters; it begins in the store's windows, where light and fluffy shapes float in the air like real clouds. Then, inside the store, the journey of the nimbus and cumulus clouds continues, and they spread out at the top of the central glass domes and on the iconic escalator of Le Bon Marché Rive Gauche.