Shoe repair
Located in the Espace Homme and Espace Maroquinerie, Joris Cireur takes care of your shoes while providing you with personalised care advice.
Joris and his team of experts offer shining, glazing and shoe repair services for men's and women's shoes, as well as a complete range of cleaning products. On request, they can also restore any leather article to give it a second life: sofa, jacket, leather goods, etc.
Espace Maroquinerie, ground floor
Espace Mode Homme, Level -1
Joris, expert shiner and colourist at Le Bon Maché
For the past seven years, Joris Merle has been practising the profession of Shoe Shiner and Colourist, a profession he considers to be an art and at which he is a master. Self-taught, Joris restores and brings out the beauty of shoes, handbags and other leather accessories.
Today, Joris' workshops are located in the heart of Le Bon Marché. In a contemporary style, the spaces highlight the traditional know-how of the shoemaker's trade. Customers can bring in their leather items, such as a vintage handbag or a pair of used trainers, to give them a new lease of life.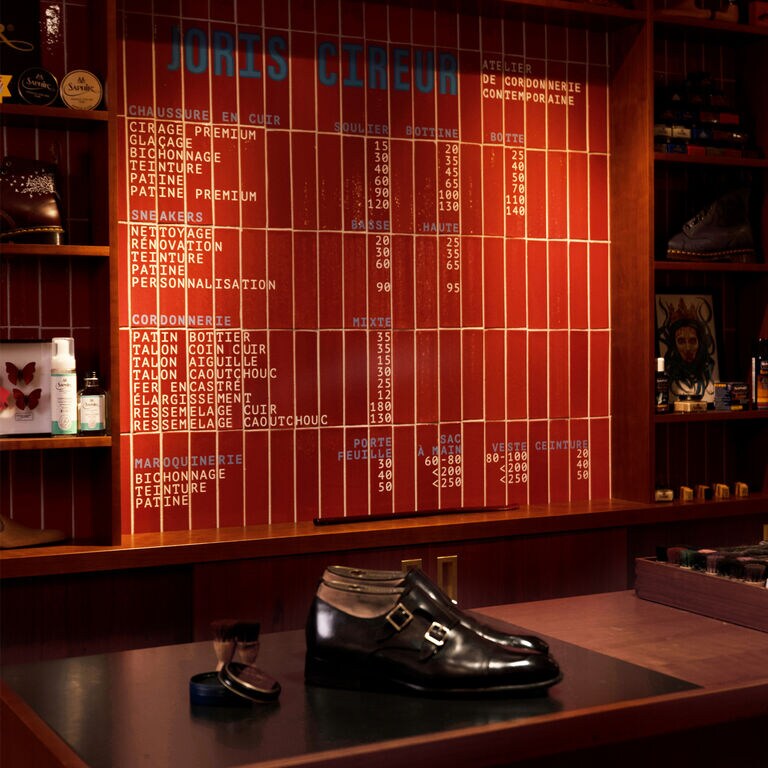 A renovation and maintenance service
To take care of your pieces and make them last over time, Joris and his team are committed to renovating each object by hand. With their partner Saphir, they use products with a vegetable base to enhance the leather. These products are sourced in France and therefore allow the shiner to reduce his carbon footprint.
Prices for shoes and sneakers →