THIS SEASON'S NEW DESIGNERS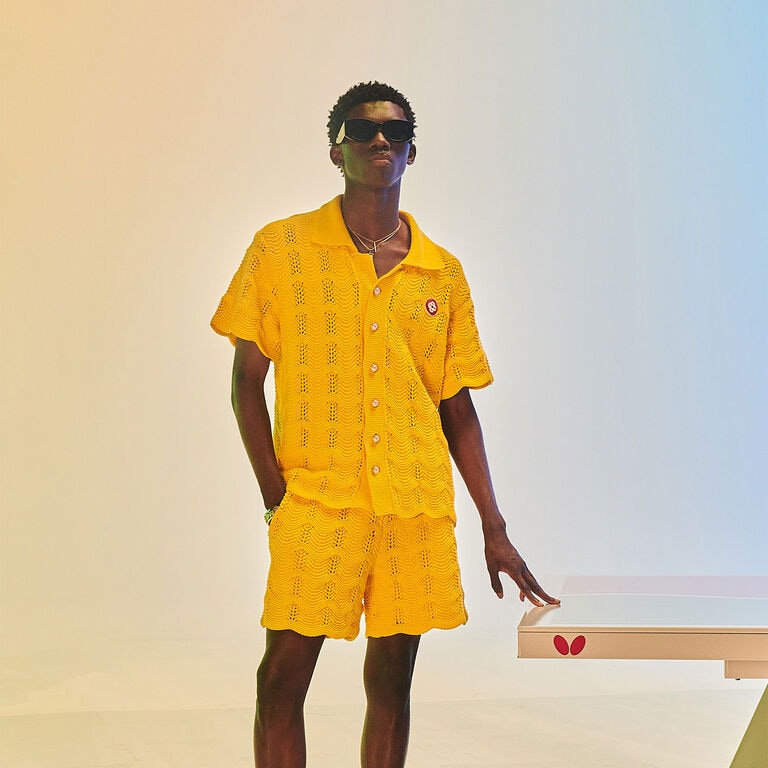 Now the days are starting to draw out, spring colours and bright motifs are making their way into men's wardrobes. Le Bon Marché Rive Gauche is leading the way by welcoming four new designers to the Menswear department to complete the summer collections.
This year, Jacquemus, Palm Angels, AmBush and Casablanca are presenting sportswear collections in oversized silhouettes – distinctive looks sure to set the trends for this summer.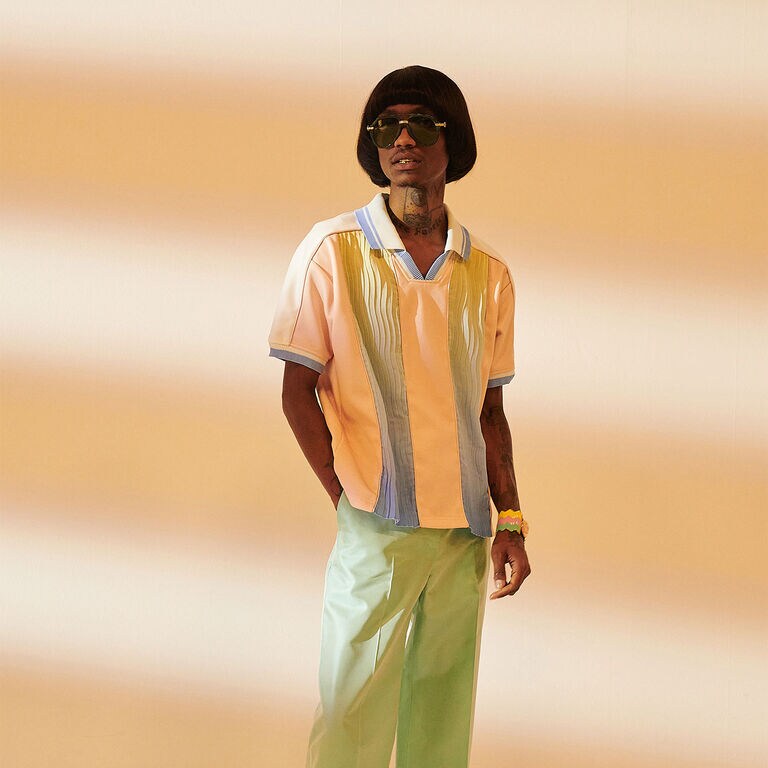 CASABLANCA: LUXURY APRÈS-SPORT
The Casablanca brand takes its inspiration both from the clay courts of the Roland Garros stadium and the terracotta of North Africa, presenting a collection full of bright colours. Behind its exotic creations is young French-Moroccan designer Charaf Tajer, who since 2018 has tirelessly contributed surprising new additions to menswear.
Casablanca's pieces have a bright sportswear aesthetic, exuding a casual spirit commensurate with their refinement. They also draw on Neapolitan expertise and fabrics that lend themselves perfectly to everyday wear.
The Spring/Summer 2022 collection reveals a delightful blend of pastel shades paired with sculptural cuts. The shirt collars hark back to the 1970s, the materials show a sportswear influence, and the prints inject a hint of sunshine.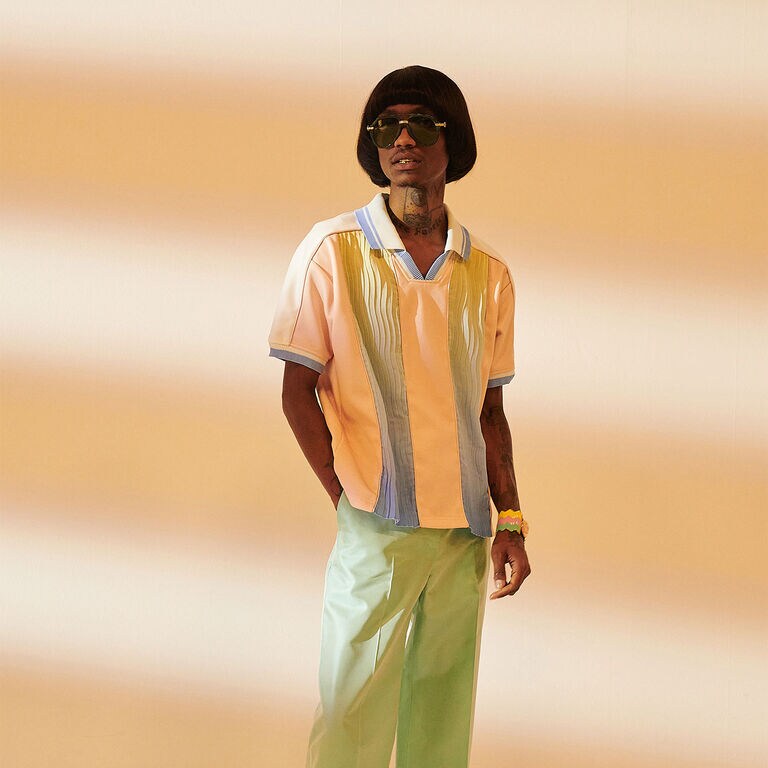 Pastel shades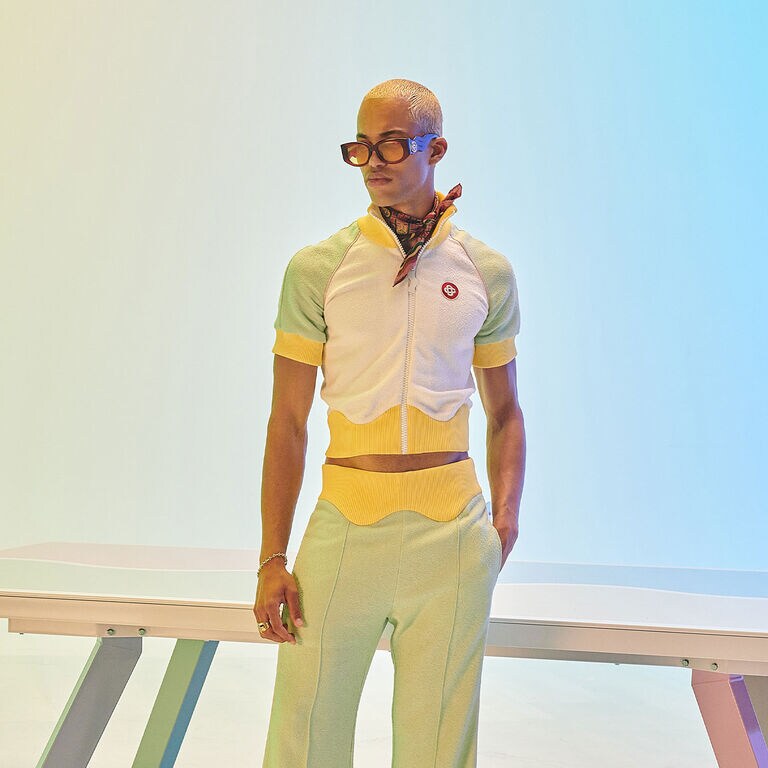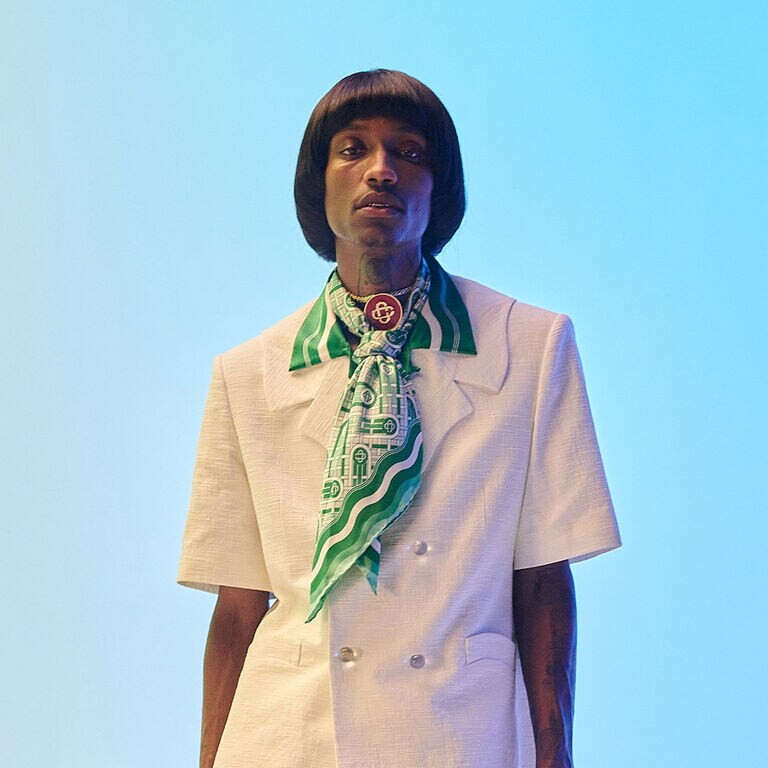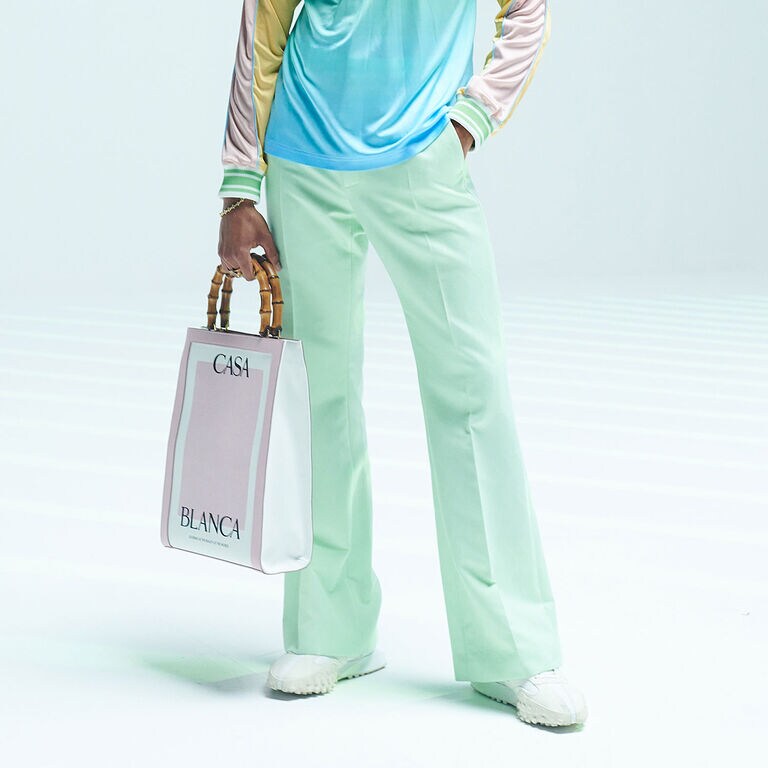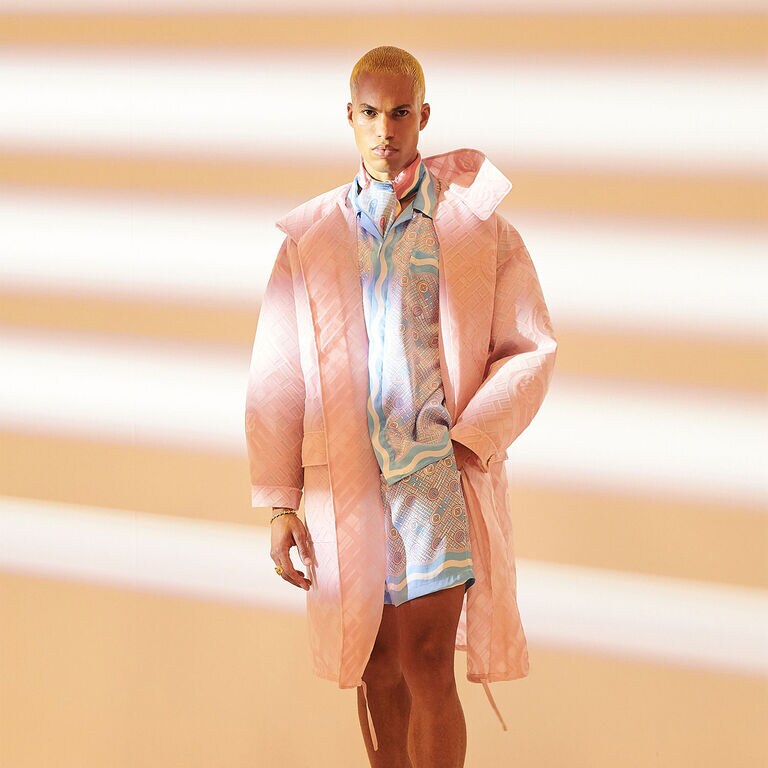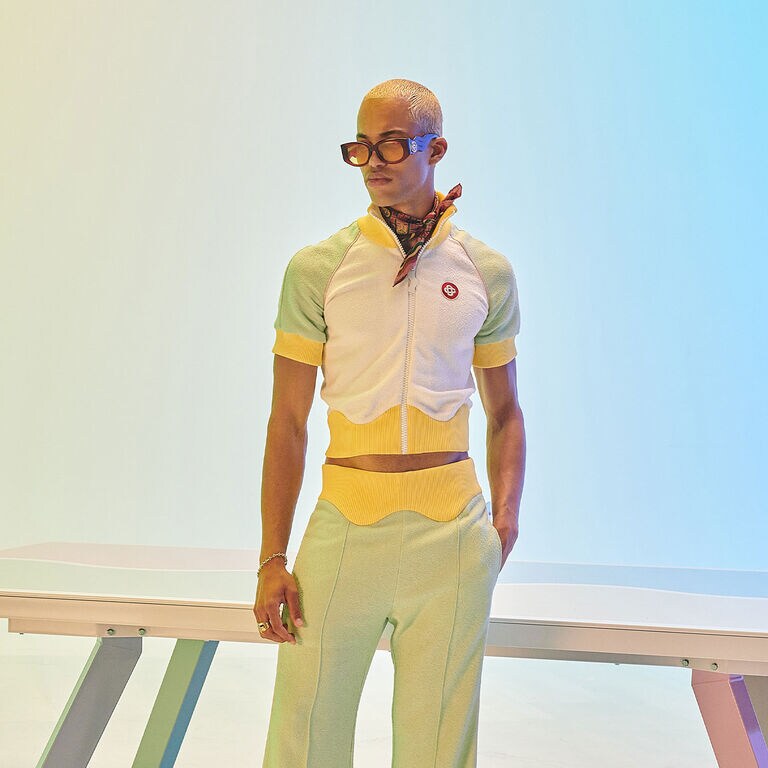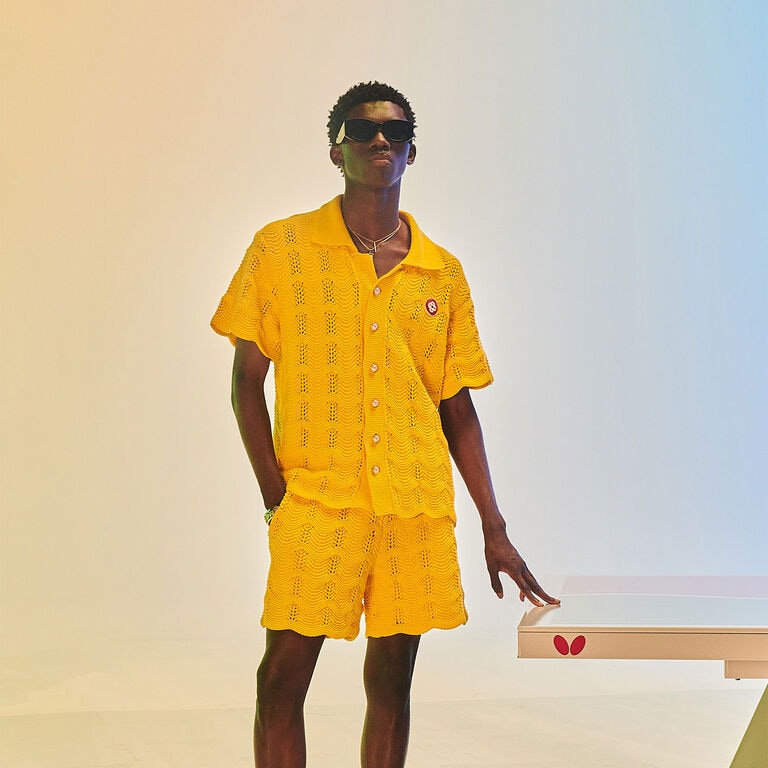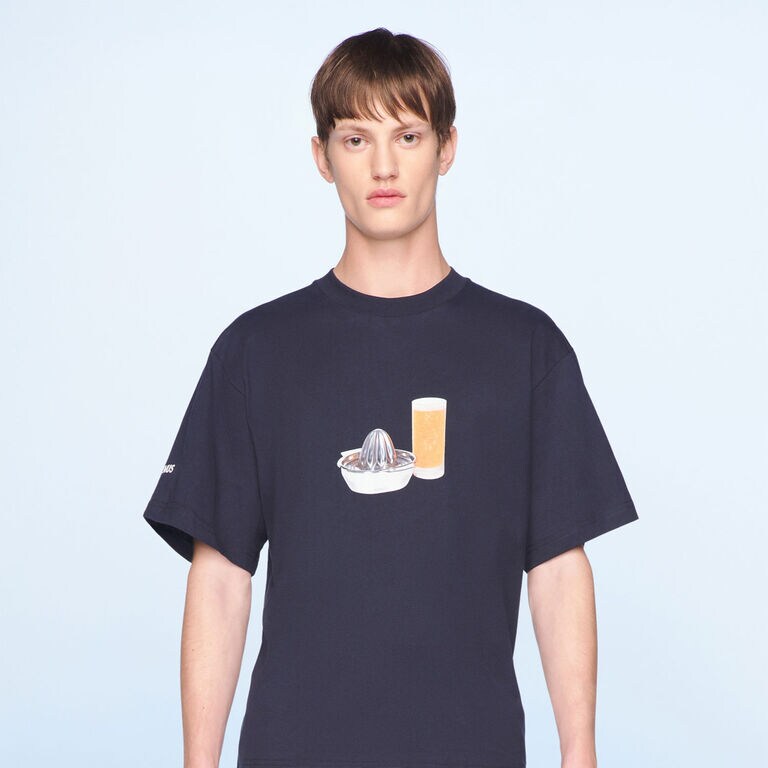 JACQUEMUS: SET SAIL FOR THE SOUTH OF FRANCE
Young designer Simon Porte JACQUEMUS is inspired by the Mediterranean. He named his label after himself in a seamless and poetic tribute to his mother, his native Provence, and the women in his life. Each collection is a stirring exploration of his past, brought up-to-date in modern and refined ranges. His fashion shows are tinged with artistic escapism and irresistible appeal.
Since June 2018, JACQUEMUS has designed menswear collections, in which the creations reinterpret workwear and place an emphasis on comfort. All the while pairing innate sensitivity with a brazen streak.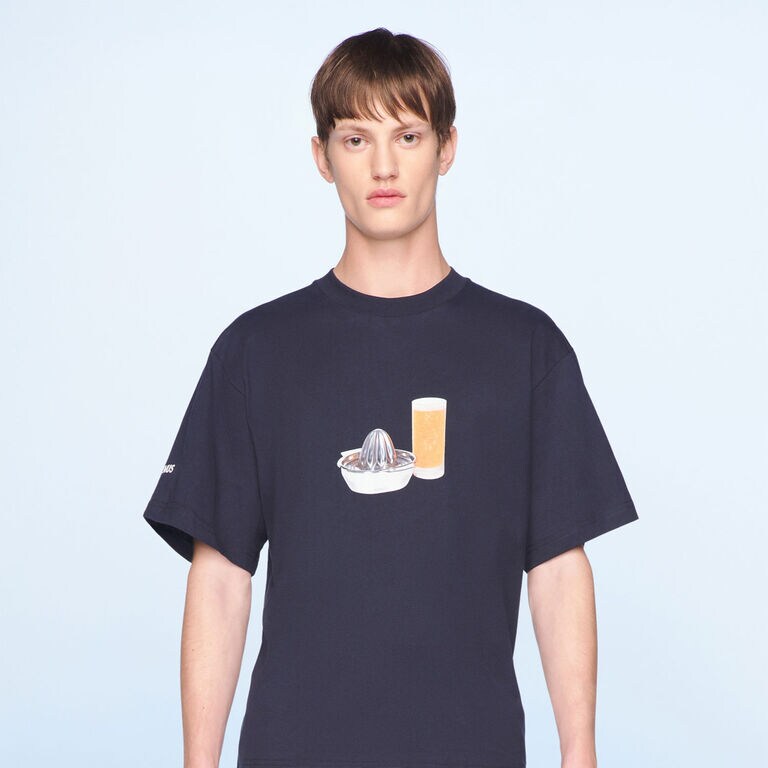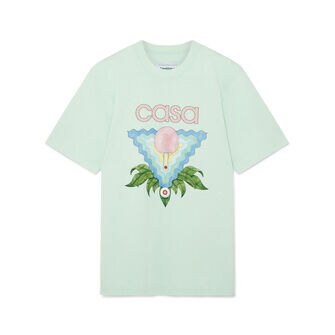 Casablanca
T-shirt Memphis Icon, 140€
Jacquemus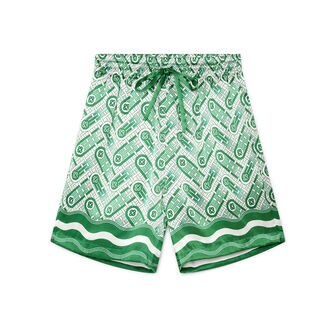 Casablanca
Short Green Pin Pong Monogram, 580€
"These four designers will make you travel and add a summer energy to your Parisian closet. We create it by imagining ourselves under the Mediterranean or Californian sun: the choice is yours!"
Lucas Silva, stylist at Bon Marché Rive Gauche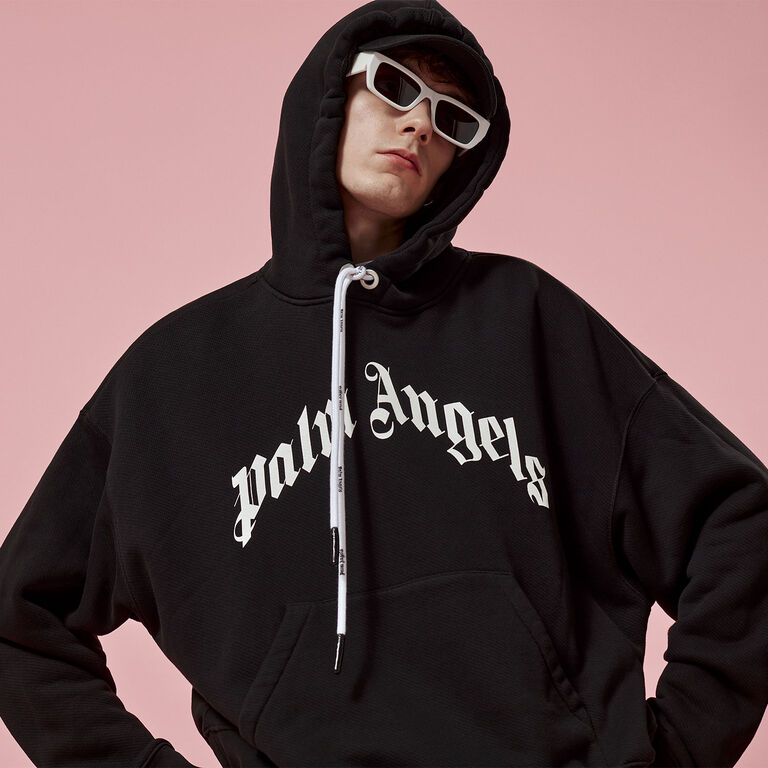 PALM ANGELS: THE CALIFORNIAN WAY OF LIFE
Francesco Ragazzi's passion for photography, Californian culture and fearless fashion led him to found Palm Angels. The young brand designs timeless pieces with the aim of conveying this free and sunny way of life by the sea. Palm Angels' concept is one of mixing and matching fabrics throughout the day, with slouchy, comfy cuts that stake a claim for freedom.
The brand's symbol, the California palm, is reinvented in a collection entitled "sun of a beach". Flawless cuts create pieces that blend conventions, where neutral motifs and colours meet bright and vibrant tones. The accessories are effortless, suitably exuding the energy of their designer. Small yet voluminous, they make true everyday companions.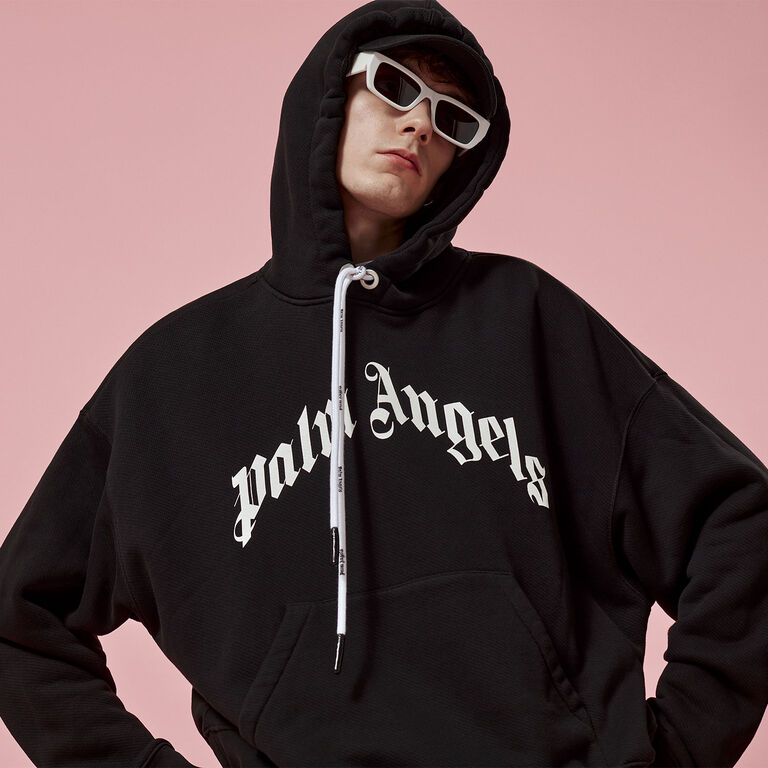 Understatement unleashed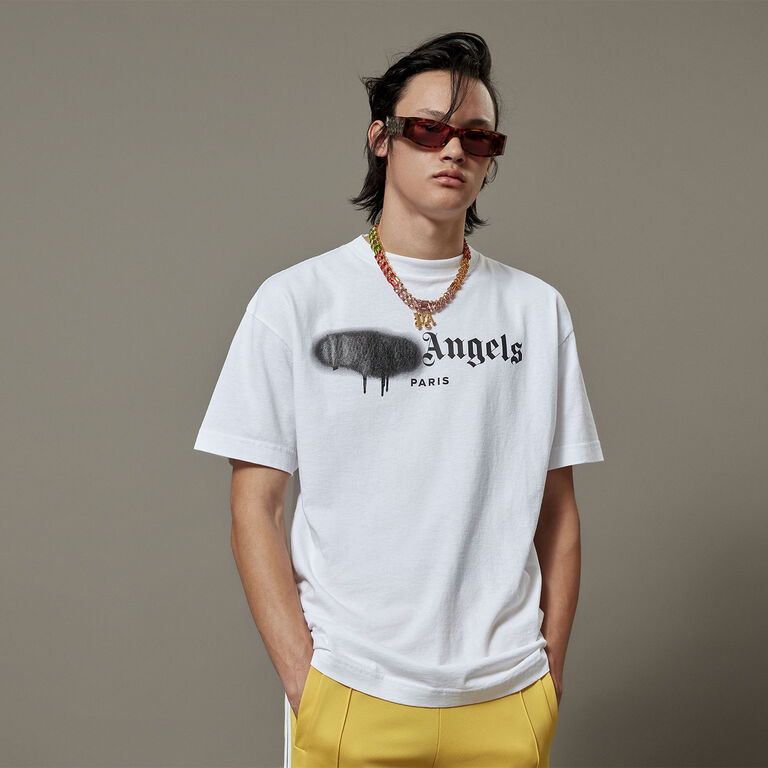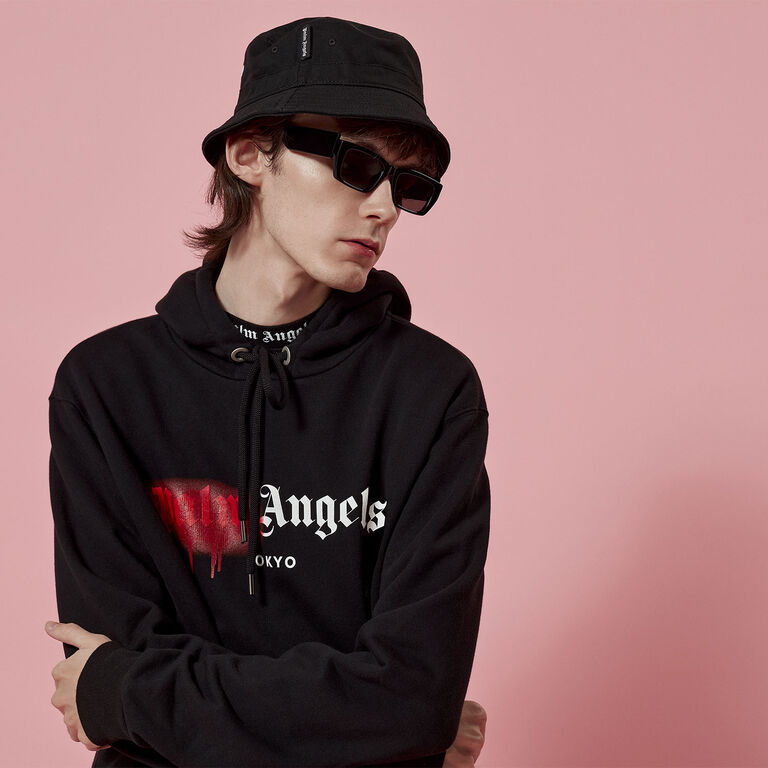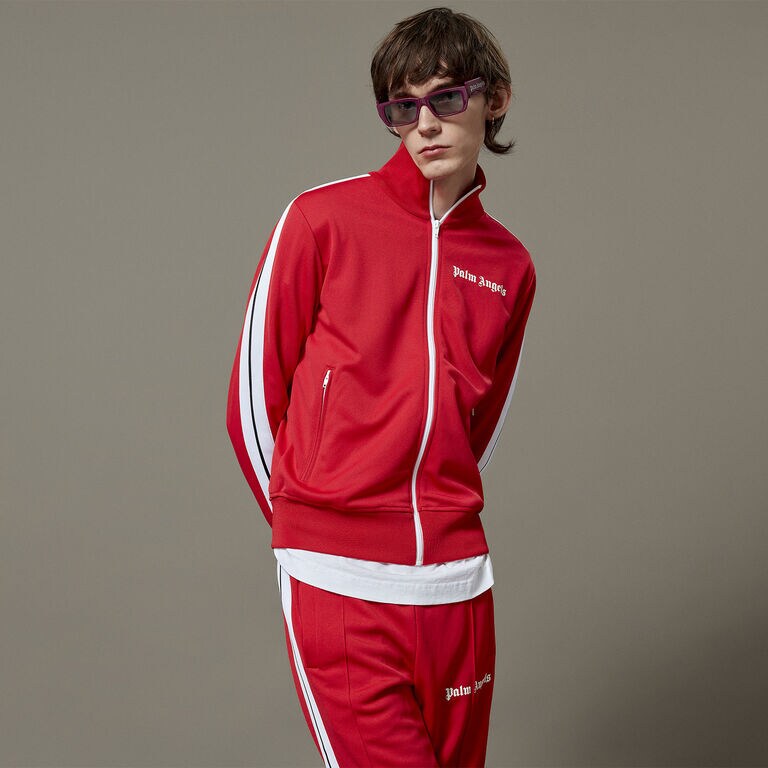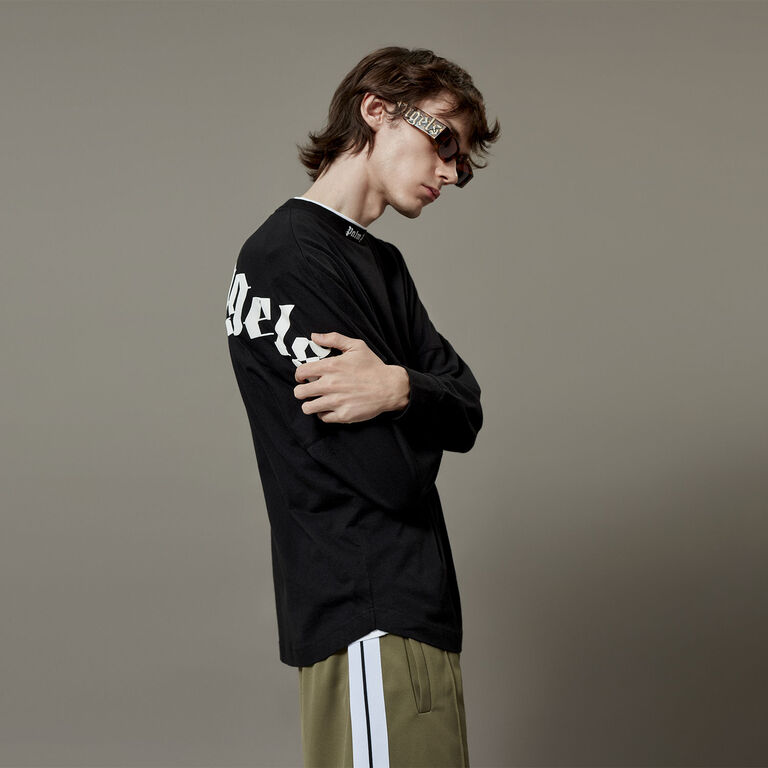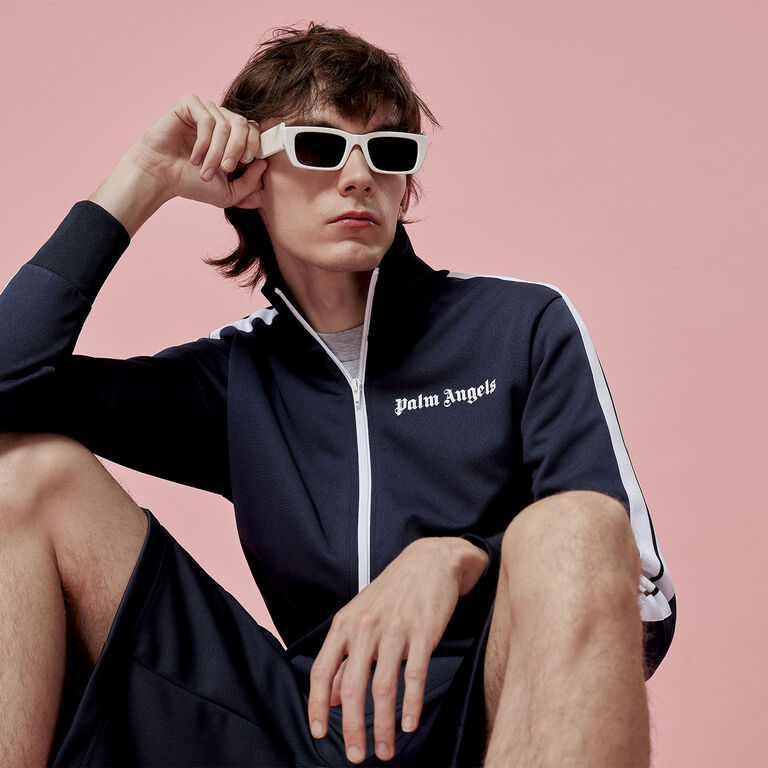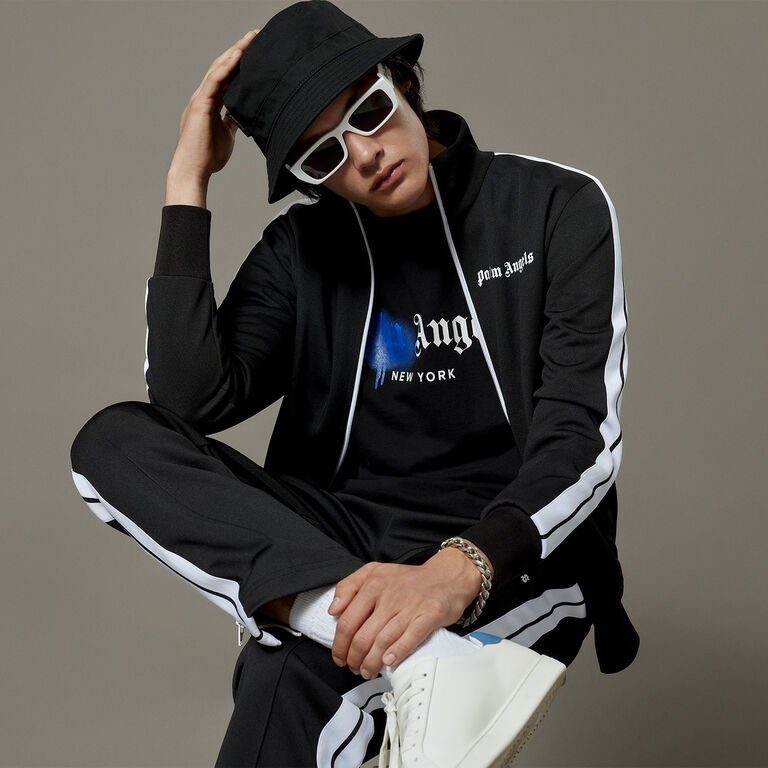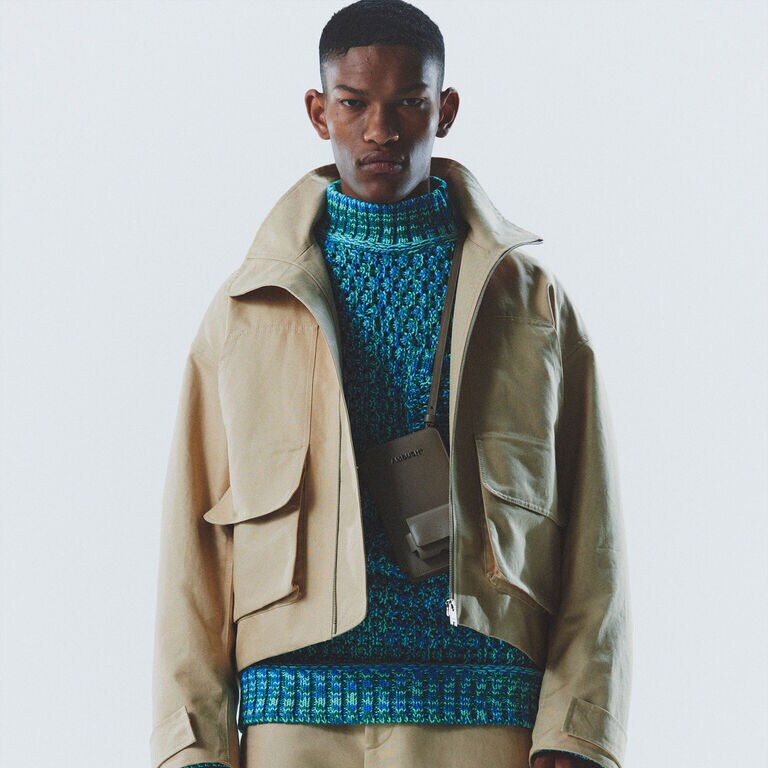 AMBUSH: (RE)CONNECTING WITH NATURE
YOON founded AMBUSH in 2008, as an experimental & innovative line of jewelry; at the beginning - clothing only served as canvas to her creations. Her brilliance now encompasses apparel, shoes, bags and of course, jewelry.
In the AMBUSH WKSP collection, basics adopt comfortable cuts suitable for wearing anywhere from the city to the countryside. These versatile pieces feature both soft and deep shades inspired by sand and water. For an extra touch of couture, the AMBUSH ARTISANAL line presents cable-stitched and crocheted cotton knitwear in vibrant colours.