Welcome summer into your home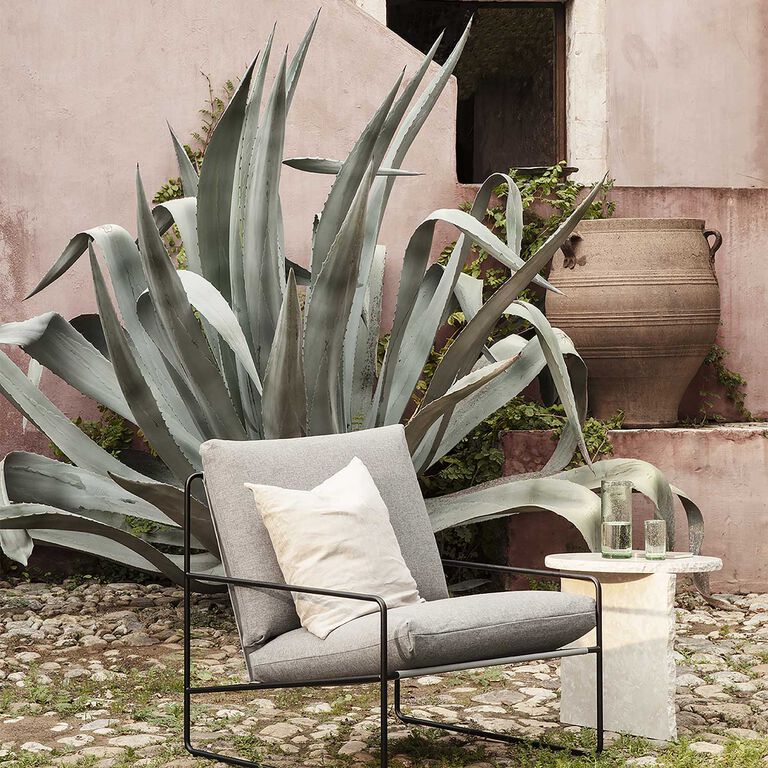 As rays of sunshine stream into your home, they fill it with the tranquil spirit of summer. A floral aroma wafts on a gentle breeze through the open windows, urging you to get outside. Can't you just smell the sweet summer air?
To help you decorate your new living space in your garden, on your balcony or even in your lounge, Le Bon Marché presents a selection of furniture, decorative accessories and tableware that are as bright as summer itself!
You will find the latest pop-ups and concessions in the Espace Maison, on the 1st and 2nd floors above La Grande Epicerie de Paris.
Play with indoor and outdoor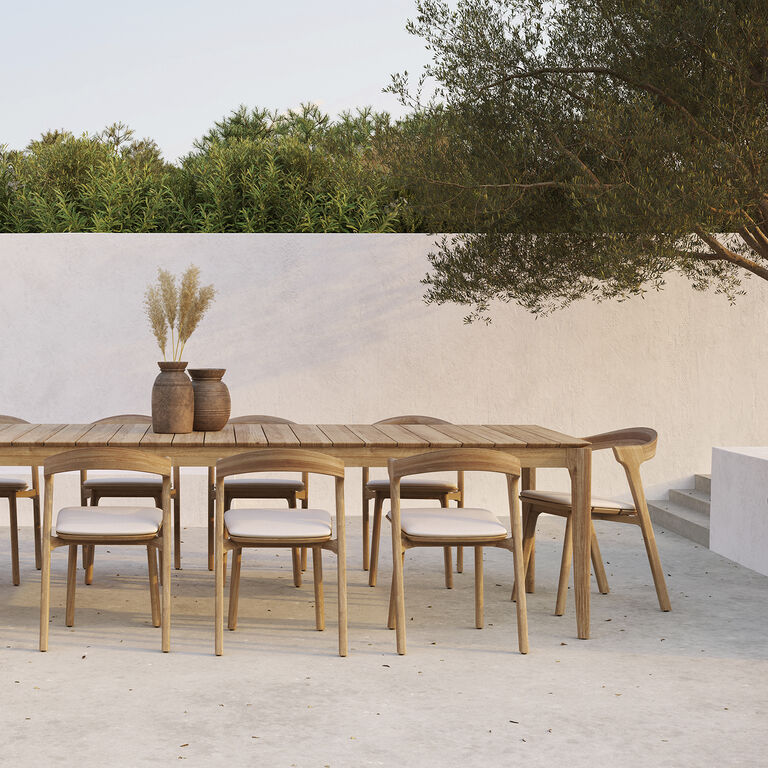 Nomadic furniture: minimalist design and natural colours
Once summer arrives, gardens, patios and balconies metamorphose into a second living room. Decorate this new part of your home with minimalist pieces of furniture in warm and natural shades. Wooden or rattan tables, flowering planters and little decorative lamps transform your outdoor areas into real spaces for summer living.
If you want to host big lunches, choose a piece full of character such as a table designed by Ethnicraft. With its unique look, ethereal curves and oak colour, the timeless Bok is a must-have that you will be able to enjoy for many years.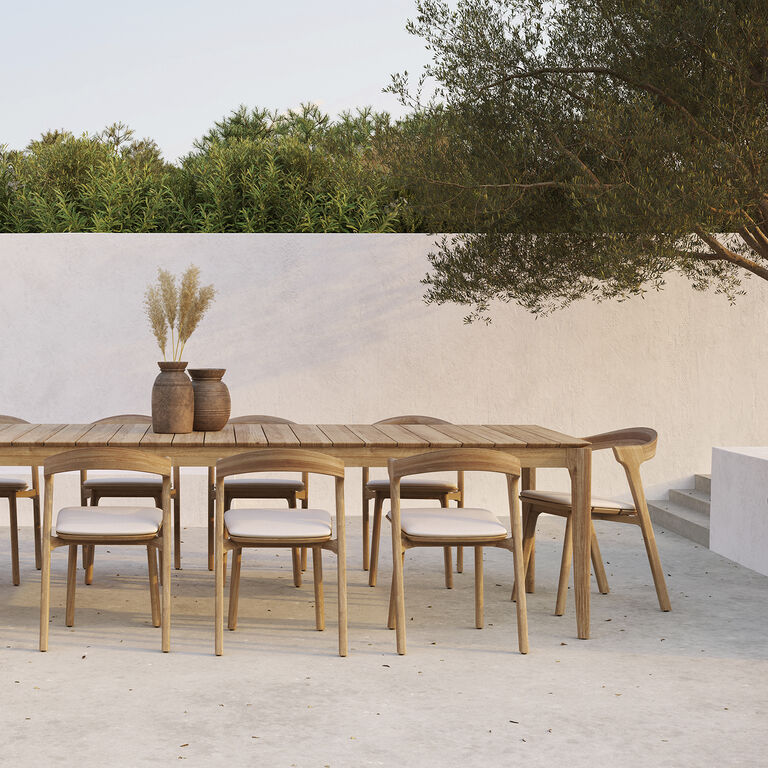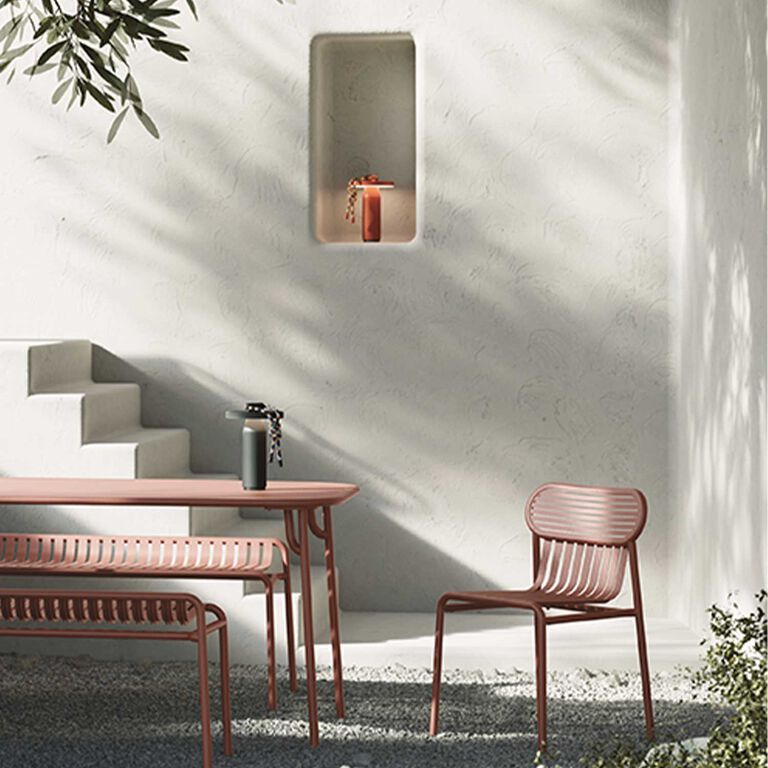 Sustainable design by Petite Friture
Petite Friture creates unique and sustainable collections of furniture to help you decorate your outdoor spaces. Each item is designed to arouse an emotion, a feeling that will last over time and across spaces.
Thanks to its sincere commitments, Petite Friture adopts a transparent and sustainable approach. It is more than a furniture maker and conveys a state of mind based on trust and generosity. Its aim is to bring out the good side of beauty, today and for a long time to come.
Find it on the 2nd floor.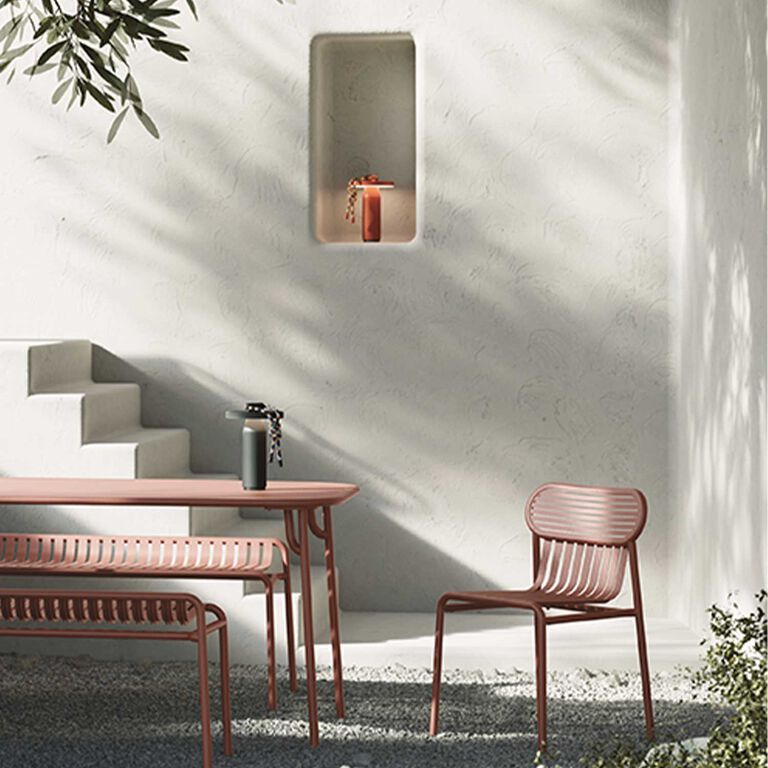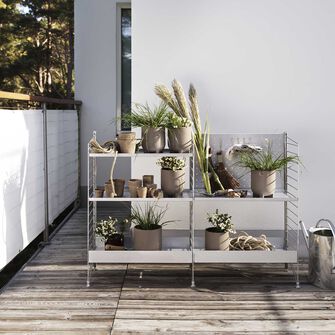 STRING FURNITURE
Etagères autoportantes « String Outdoor » en acier galvanisé, Design Nisse and Kajsa Strinning, L120 x P30 x H 87cm, 1016 € et 1,80 € d'écoparticipation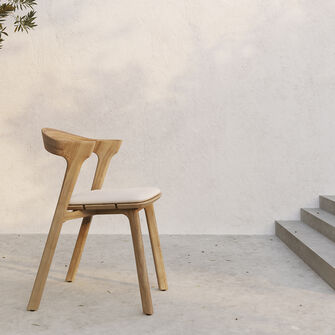 ETHNICRAFT
Chaise d'extérieur en teck « Bok », design Alain Van Havre, L 50 x l 54 x H 76 cm, 629 € pièce et 0,40 € d'éco-participation.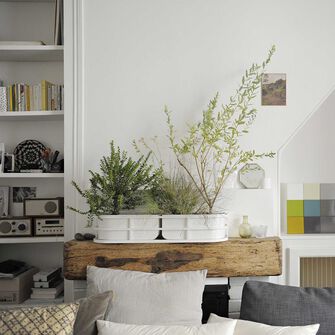 LE VERT À SOI
Jardinière d'intérieur, 350€, avec son petit paysage à partir de 480 €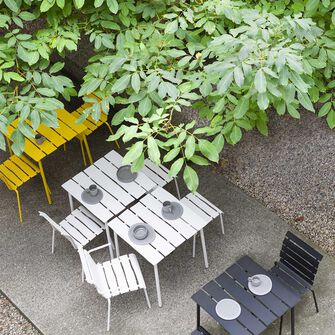 VALERIE OBJECTS
Table à manger d'extérieur, design Maarten Baas, structure en aluminium, L 70 x l 70 x H 74 cm, 795 € et 1,80 € d'écoparticipation. Chaise d'extérieur, structure en aluminium, L 56 x P 55 x H 82 cm, 350 € et 0,40 € d'écoparticipation,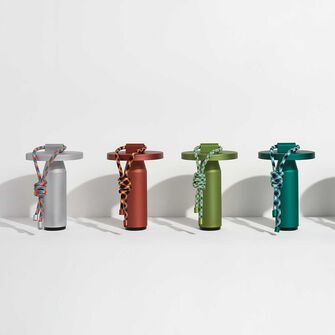 PETITE FRITURE
Lampe baladeuse d'extérieur « Quasar », design Samy Rio, différents coloris, H26 x ø17cm, 199€ et 0,20€ d'écoparticipation.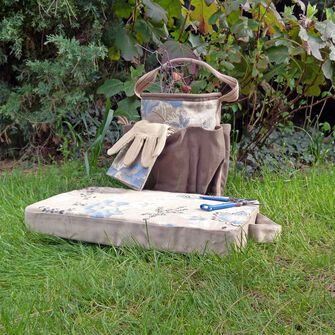 LA DIVINE JARDINE
Coussin protège-genoux, différents imprimés, 50 x 30cm, 75€, Sac seau, 89€, gants de jardinage, 45€, sécateur, différents coloris 55€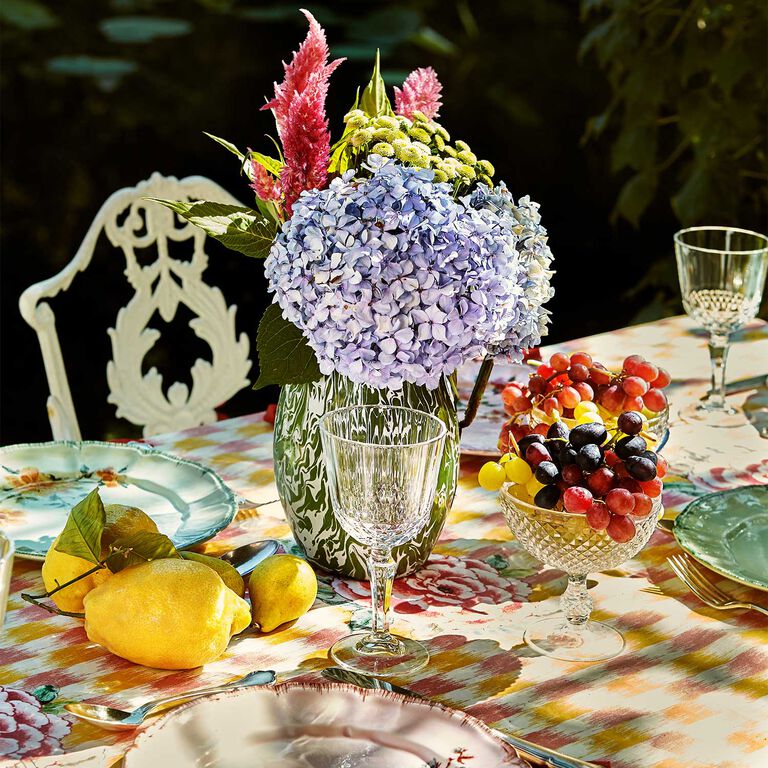 Home décor: bright colours and romantic prints
Home décor trends bring boho touches alongside bright colours. Shades of turquoise, sage green and powder pink plunge the home into a jovial and summery state of mind. Fluffy cushions, patterned tablecloths and dainty dishes bring that holiday mood to your home and transport you to distant shores.
When dressing your table, play with colours and mix floral prints with a Lisa Corti linen, rainbow-coloured glasses and plates from La Romaine Editions. Make mealtimes a truly cheerful occasion with a warm and bright atmosphere.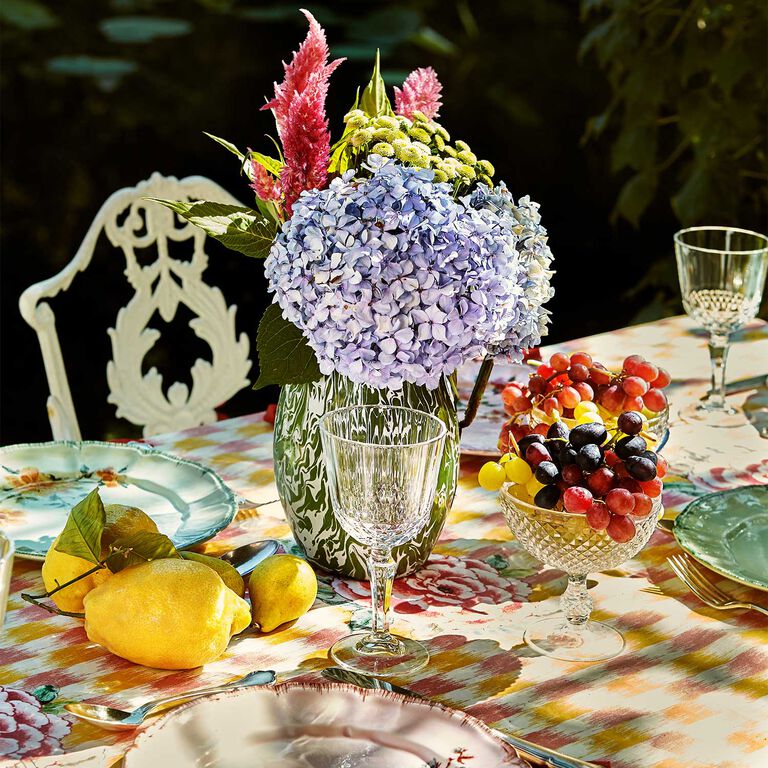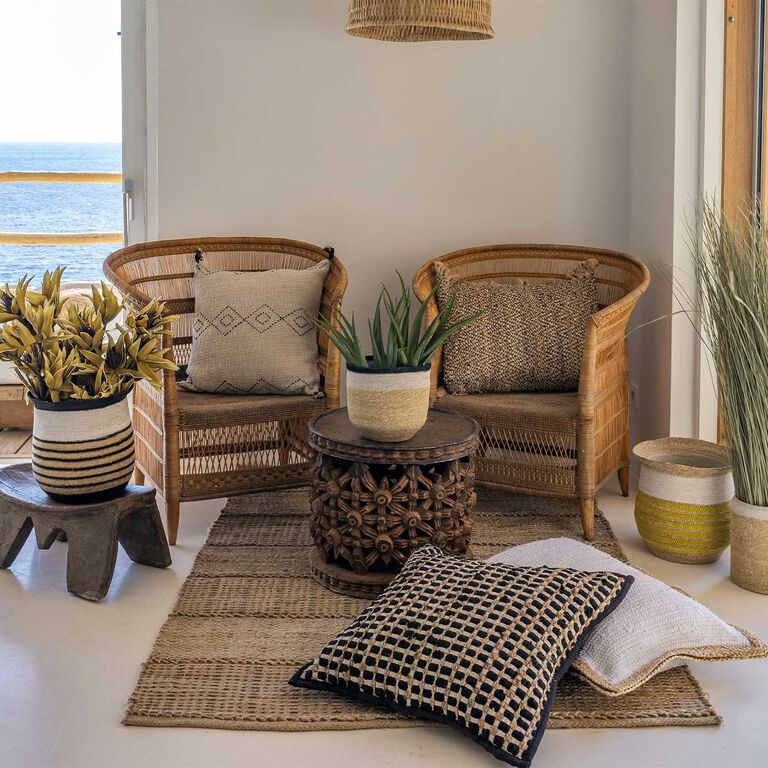 Holiday living by Marinette Saint Tropez
Marinette Saint Tropez takes you on a journey to the boho-chic South of France. With collections that reinvent homeware, Marinette Saint Tropez presents a vast variety of continually refreshed indoor and outdoor items, from delicate fabrics to outdoor décor.
By creating a unique and intimate feel-good ambiance, Marinette Saint Tropez makes everywhere a warm and welcoming place brimming with holiday vibes.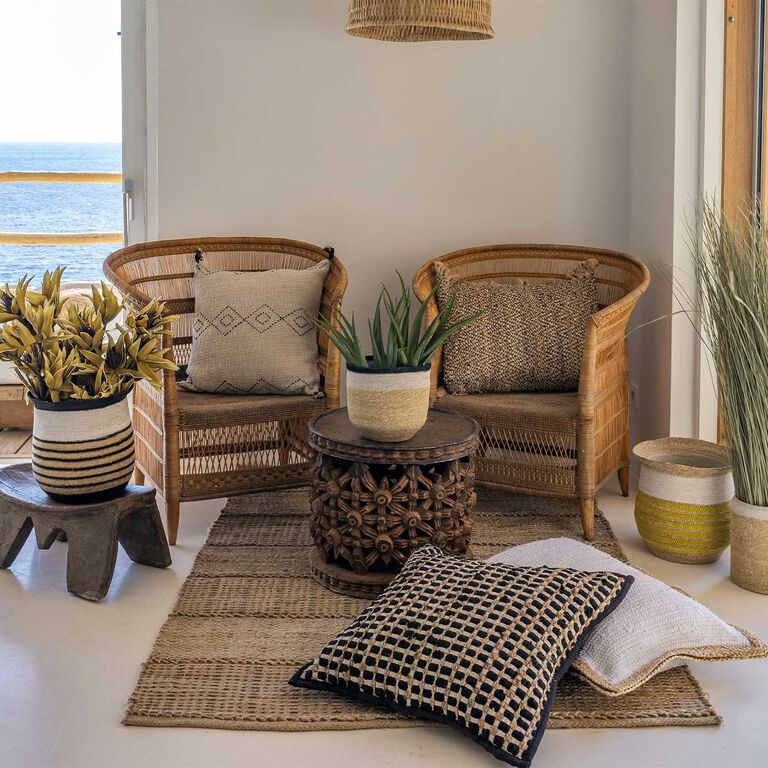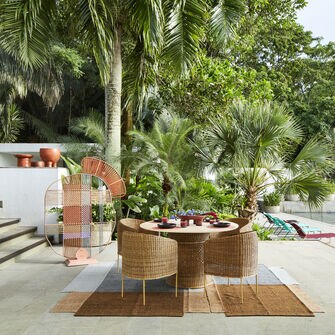 AMES
Design Sebastian Herkner, fauteuils « Caribe Naturel », structure et piètement en acier galvanisé peint, assise et dossier en osier H75 x L 55,3 x P 86cm, 1032€ et 0,40€ d'écoparticipation, table « Caribe Naturel », structure et piètement en acier galvanisé et thermolaqué, tissage en osier, plateau en aluminium, H75cm x ø130cm, 3684€ et 3,50€ d'écoparticipation, design Mae Engelgeer, tapis « Muyska » en laine, 190 x 270cm, 1834€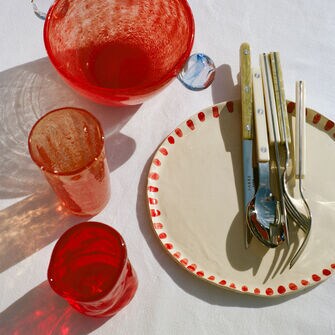 LA ROMAINE EDITION
Verre de Murano, 98€, Verre à eau bullé, 20€, Coupelle « Pavot » bullée, 21 x 9,5cm, 65€, Assiette en céramique, ø 23cm, différents dessins, 35€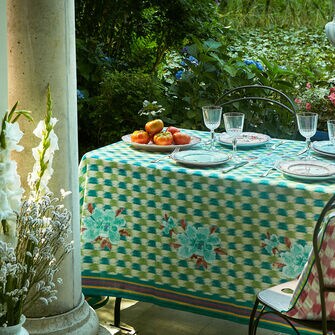 LISA CORTI
Nappe « Veranda Peacock » en lin, 180 x 270cm, 230€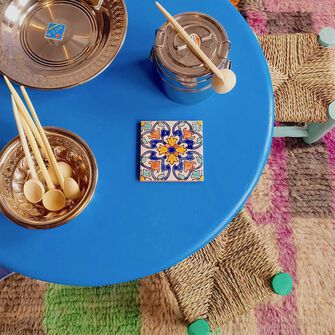 RIVIERES
Table « Sidi Ali » en bois de cèdre massif, différentes dimensions, à partir de 95€, Tabouret « Sidi Ali » en bois de peuplier et feuille de palmier, à partir de 35€, Carrelage « Medina » en terre cuite, différents dessins,12€, Lunch box indienne « Shine », 16€, Cuillère « Baba » en bois de citronnier, à partir de 6€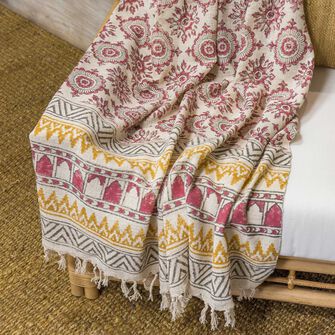 MARINETTE SAINT TROPEZ
Fouta « Gaspare », en coton, 120 X 160cm, 69€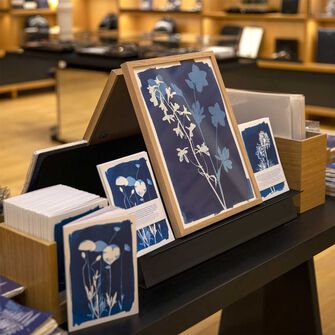 INVINCIBLE ETE
Cyanotype encadré, pièce unique, différents dessins, 30 X 40cm, 180€, Carnet imprimé cyanotype, différents dessins, 21 x 14,5cm, 16€